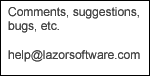 Hits:

Last Update: 03/16/2011


Latest News:
March 16, 2011

It is now time. The moment you have all been waiting for. Drumroll please ...........

Taggin' MP3 1.5 has been released!

That's right! After almost NINE years since the last major version, I bring you a new version of Taggin' MP3! This release has a lot of bug fixes, new features, and a (slightly) updated interface. Don't delay, download today!



January 21, 2011

That's right! It's 2011 and time for another update. :) An important announcement is coming soon, so make sure you check back here frequently.



April 6, 2009

Another fix for the gethulu.pl to fix content grabbing (again). Hulu changed the CSS class name (again), so this changes it too. I also added some code to try to avoid JSON parsing problems.

I'll probably have to change to a most robust means of pulling the feed lists.



April 1, 2009

Updated gethulu.pl script to version 1.0.1 to fix content grabbing. Hulu changed the CSS class name used to find the movies and episodes. Maybe it was an April Fools joke.



March 28, 2009

I've added the first version of the MythTV information page. Check it out to see a few of the scripts I've made so far.



March 15, 2009

It's hard to believe it's been over four years since the last update! This one is pretty small though. I'm going to be adding a new section over the next few days dedicated to some MythTV related stuff (some patches I've done on my own version, helper scripts, etc). Stay tuned.



February 10, 2005

I have made an update to Taggin' MP3! Unfortunately, it is not a very big update. I have fixed three (well known) outstanding issues:

* Ctrl+X closes the program (it was a hotkey for the Exit menu option)
* The window is now resizable to fit on an 800x600 desktop.
* Genre list was not in complete alphabetic order

I am not packing together a complete release, so this will be the EXE only. You will have to download the full version 1.4.5, then replace the EXE with the updated one, found here. This release may be a little buggy, as I have not compiled the program in over two years, but everything that I tested still work properly.



January 15, 2005

Another year, another update. A very simple one this time. I've had a few people ask me about the future of Taggin' MP3. I have toyed with the idea of rewriting the software backend from (mostly) scratch to make it faster and more stable. I'm really not sure when I will get a chance to do this, but I do still have plans in the back of my mind for doing so.

The main reason I updates the site was to change the contact email on the left side (info@lazorsoftware.com is getting too much SPAM). It is now an image to help reduce the number of SPAM harvestors out there (but unfortunately you'll have to type it in by hand).



September 28, 2003

Another update! Unfortunately, it's nothing to get too excited about for those wondering about Taggin' MP3. I simply haven't had time to work on it. However, when I DO get a chance to work on it, I plan on rewriting all of the backend code to make it faster and more stable.

In the Video Games section, I have added a page for game movie recordings. Right now, there are very few (just some I have made). I encourage anyone that wants to share their interesting emulator feats to send me their movies along with details describing it. More information can be found on the Movie Page

Man, this website still needs an overhaul.